QR code quilt
I thought I'd write this up while it was semi-fresh in my mind. This blog covers the making of the miniature QR code quilt I exhibited at Festival of Quilts 2023 in Birmingham UK.
Why make a QR code quilt?
Developing the QR code quilt spoke to my interest in bringing together quilt making and technology, and exploring meaning making in that process. First and foremost, I wanted to see if the QR code would function as intended when 'materialised' in three dimensions. I was also interested in using the QR code at Festival of Quilts to see if I might pick up some interest in the approach I'm taking to quilt design by making connections with other quilters. My husband suggested I call the quilt 'Shameless Promotion' but I went with the mildly more subtle 'Follow'!
Where does the quilt take you?
A few years back I worked as a Research Associate on a project called 'Artcasting' with colleagues at the University of Edinburgh (link below). The project sought to understand how people engage with artworks in gallery and settings. We did this by building a mobile application for use in two specific ARTIST ROOMS exhibitions (Roy Lichtenstein at National Galleries of Scotland and Robert Mapplethorpe at The Bowes Museum). The app enabled visitors to cast a digital version of the artworks in the exhibition anywhere in the world (past, present, future) along with a statement about why they sent the artwork to their chosen location(s). One of the core questions we were interested in was where does art take you?
I think there's a link here to the question 'where does the QR code quilt take you?'. Mine 'took' visitors to my Instagram profile. On reflection, a QR code quilt will really only make sense to those with an understanding of what a QR code looks like and what it does – a particular visual and digital literacy. My version is actually more restrictive since it only makes sense to those with an Instagram account. Beyond where the QR code quilt takes you (digitally) I was also interested in what the QR code 'did' to those attending the Festival of Quilts. My description in the catalogue was 'The quilt becomes a performance as visitors recognise a machine-readable code and begin to interact with it (mediated by everyday tech) to find out where it takes them'.
Though I didn't get a photograph of people interacting with my QR code quilt (because I was hanging out at my 'Reulanach' quilt in the contemporary section of the exhibition) a few people reached out on Instagram to say they thought the idea was cool. Yay!
So, QR code quilts - they work! I quite enjoyed the uncertainty of not knowing whether the quilt would function as it should until it was finished. Having said that, my time and financial investment was quite low for this project. I made the quilt over a week (including an initial version that wasn't turning out well – see below) using left over fabric and wadding from other projects. Enthused by the process, I'll be making another.. sometime. If you read on, you'll find some links to more creative QR code designs that you can think about in the context of quilt making.
What you will need
QR code generator
Starch
+ all the usual items
Fabric colours – I used two contrasting colours to give the quilt the best chance of being recognised. I didn't have a huge amount of time to make the quilt before committing to the Festival of Quilts exhibition so this low risk colour option made sense for me. Before you start thinking about what colours you'll use to create your QR code, it's worth having a read about some of the more creative options that have been used to design QR codes. There seems to be a growing interest in creative QR code design. Artificial Intelligence generated QR codes can be mind-bogglingly lovely but there are lots of other examples that might encourage you beyond the basic high contrast two colour that I've used. There are some lovely ombré QR codes out there which might work. Have a look at the links below to give you some more information and a bit of inspiration. Take note of which way round the contrast should be as it does seem the reverse option may not work (Icon8 blog, link below).
The miniature quilt category of FOQ23 meant my quilt had to conform to specific size criteria - under 30cm x 30cm. I needed to buy a cutting ruler that worked with centimetres because my QR code ended up with 29 lines, meaning if I used 1cm for each line my QR code mini quilt would end up at 29cm square.
Making
This will not be the only way to make a QR code quilt. In fact, Fiona (Instagram @freefabkid) also exhibited a QR code quilt at Festival of Quilts. It was a biggy!
1. A web search for 'QR code generator' will find numerous tools you can use. Many require you to subscribe before you can download your QR code as an image. I used QR Code Monkey, which allows to download your QR code without subscribing to anything (link below).
2. Copy and paste the URL (web address) you want your QR code to take you. Generate the QR code and download it in whatever format suits. I used an image file (JPEG, PNG).
3. Save the file somewhere you can find it later (if needed!)
4. Print the image. I used A4 paper which was fine for my purposes.
5. Count up the number of rows in the QR code. Write line numbers to stay organised later.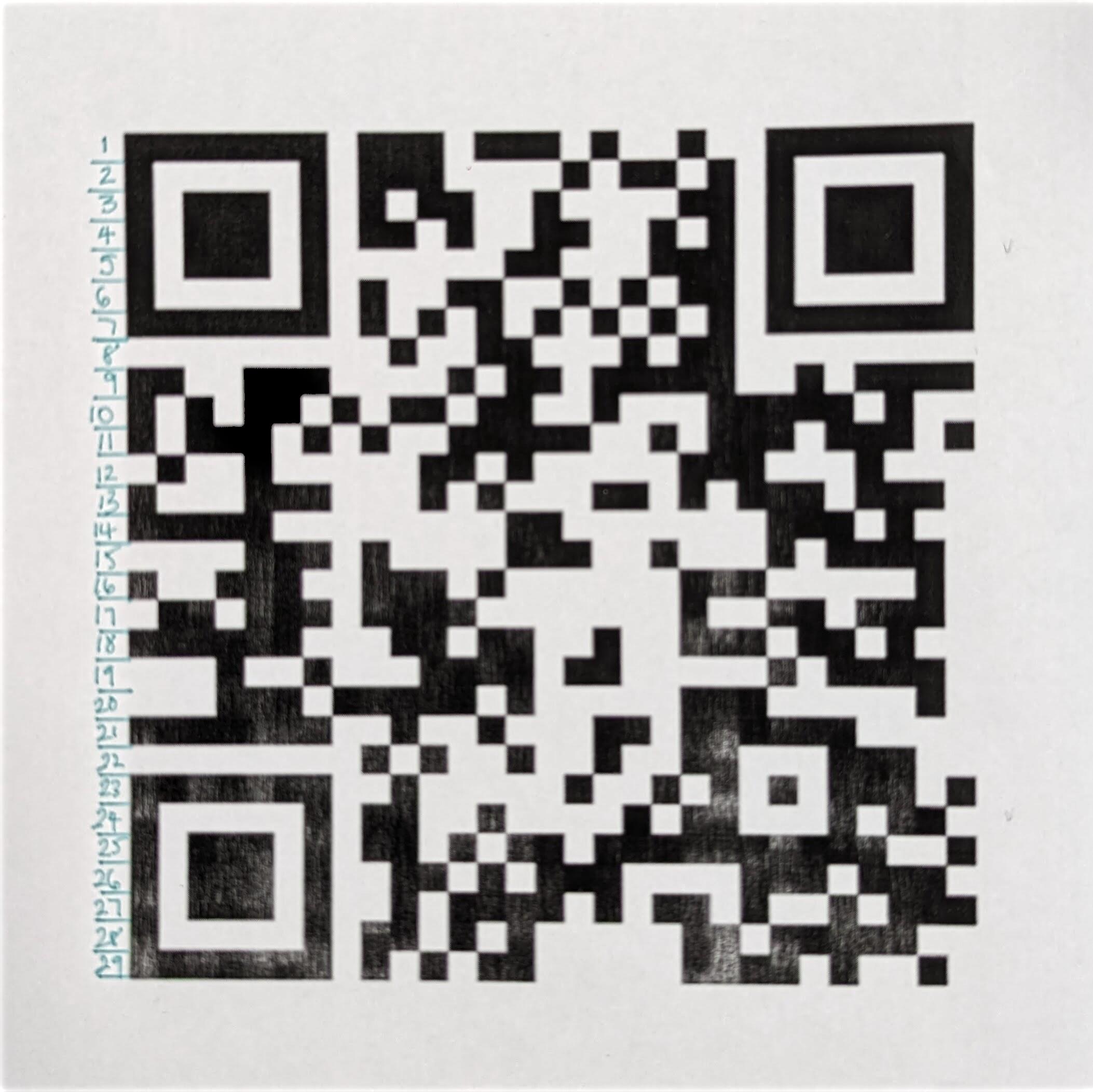 QR code pattern with line numbers
6. Think through how you will scale up each individual square within the QR code. I made each individual square of my QR code 1cm but you can use any measurement. Also good to think at this point where your quilt will be displayed. In a small room it will need to be smaller so people have enough space to scan the quilt.
7. Work out what seam allowance you will use.
8. Starch your fabric! Essential if you are making a mini QR code quilt. This was a hard won lesson for me. I ditched my first prototype after constructing 3 rows and finding there was too much movement in the fabric without starch. Sanity note: even with starching, working at a finished block size of 1cm is tricky.
9. Starting with the first row get cutting, adding on your seam allowance in both directions to the core size of the square/rectangles as needed. As my finished quilt worked out at 1cm I added just under 0.5cm to all sides when cutting.
10. Working in centimetres with a ¼" foot on my sewing machine was interesting. The only answer to this was to test (and test) to ensure finished blocks ended up the right size. I found this easier joining fabric to make up rows but wasn't quite so careful when joining rows together. Again, consistency is key.
11. Once I'd made the first 3 rows, I struggled to focus on which row I was working on from the 'pattern' (QR code). I introduced a ruler/piece of fabric above and below the row I was focusing on and that worked well enough.
12. I started sewing rows together quite early, mostly to make sure the rows didn't end up in the wrong order, and to give me a rest from the fiddly joining of row pieces.
13. I ironed rows in different directions before nesting seams and pinning rows together.
14. Remember to use the same seam allowance you've used when joining your contrasting fabrics to make rows, otherwise you'll end up with rectangles rather than squares.
15. Once you've constructed the complete QR code you will be able to scan it and see if it works. Exciting! I have my fingers crossed for you..
16. Quilting. I used invisible thread and quilted in the ditch along the rows. This worked well for me because the focus on the quilt was really on the QR code 'pattern' and not the quilting. Of course, it took me a while to realise this. I had wondered whether the quilting could also play with the shapes in the quilt, many of which reminded me of playing Tetris way back when! I find a paper-based test a good way to try out (and discount) an approach I'm thinking about. I think the nod to Tetris would work, but the time investment was beyond what I could commit to with this first version.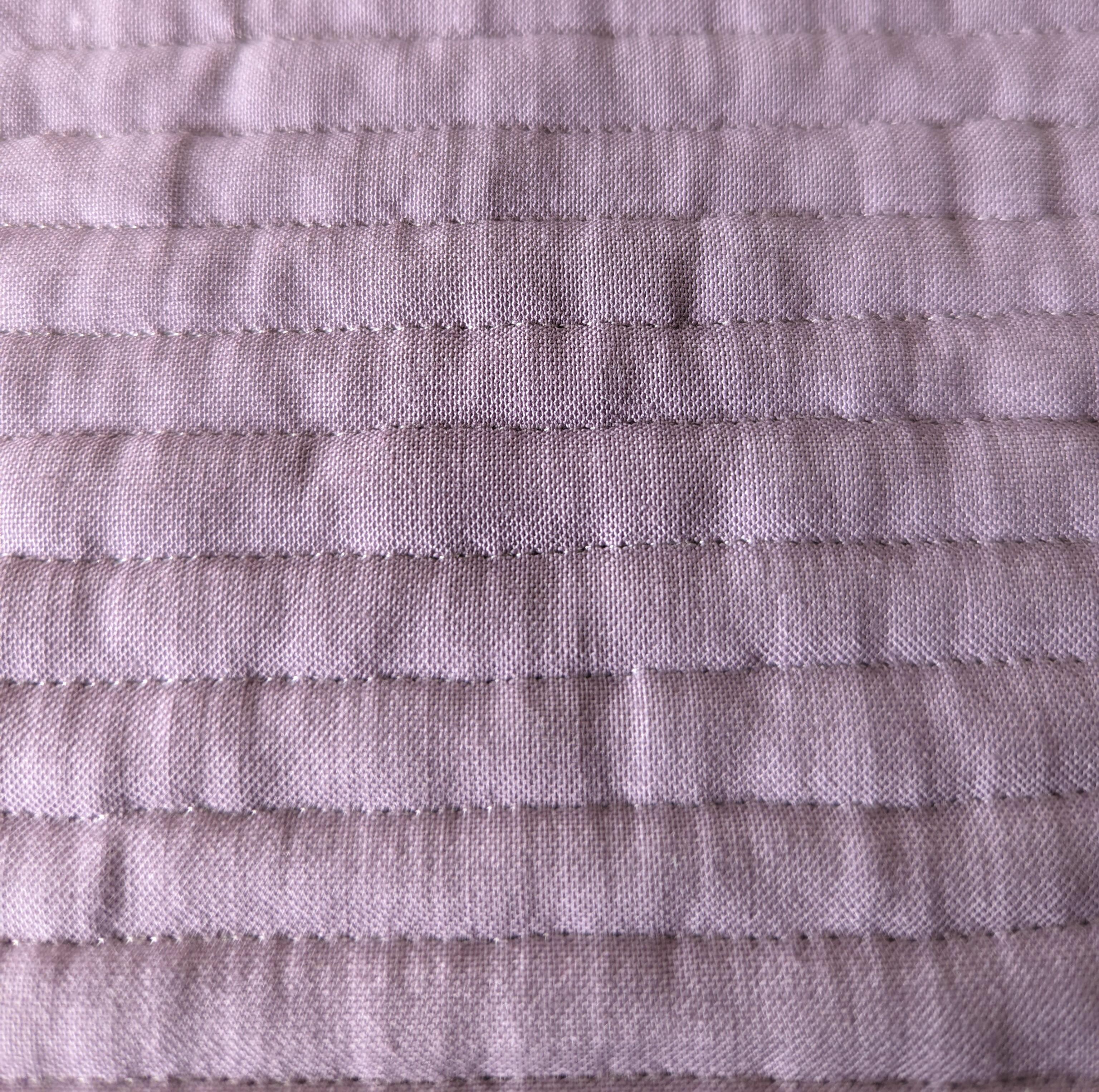 QR code quilt reverse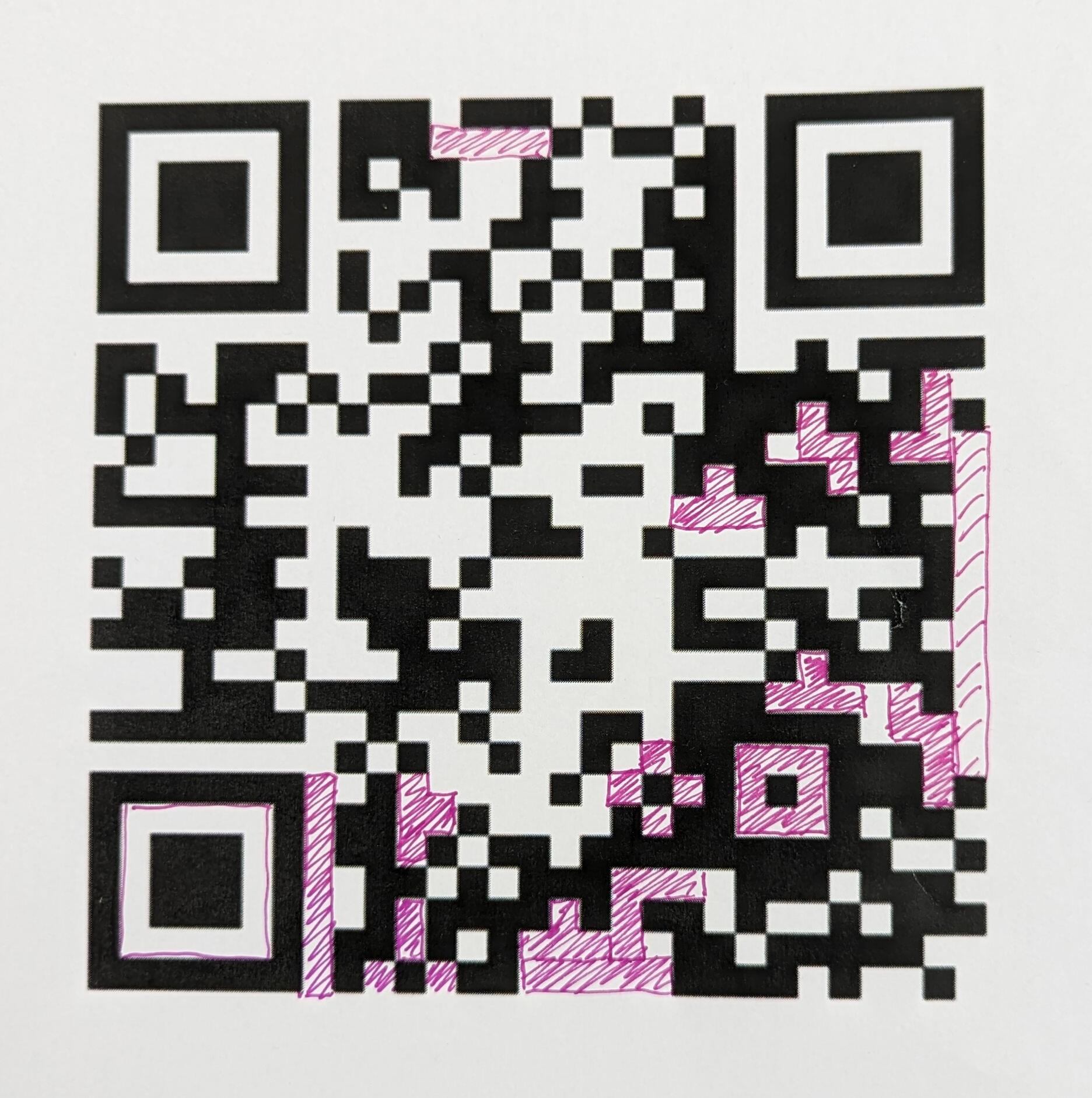 Testing quilting ideas
Let me know where your QR code takes you….I'd love to know!
Find out more
AI QR Codes article (Creative Bloq website)
Creative QR codes (Icon8 blog)